Whether you're headed out for work or play, you can adorn an African men shirt and still look nice for the occasion. African men shirts are highly versatile, as you can match them in different ways to create your preferred look for any occasion. African shirts are available in different colors, patterns, and styles. That takes away the hassle of finding a shirt that's appropriate for your event.
Casual African Men Shirt
T-shirts have been the go-to outfit for men, so long as it is a casual affair. However, you can break the norm by wearing casual African design shirts for men. That way, you'll stand out from the crowd that opts for the all-too-easy T-shirts. You can choose a buttoned or an unbuttoned shirt, whichever suits your taste. If you select a buttoned shirt, remember to undo the top button and roll up the sleeves to eliminate the formal character. It would be best if you chose a patterned shirt, such as this floral African shirt. They have a more laid-back vibe than their striped counterparts.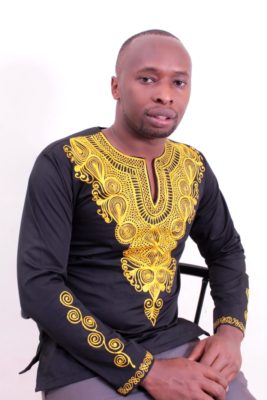 Official African Men Shirts
Being a man is all about versatility in outfits, especially in the ever-changing office attire. An African print men's shirt offers an excellent option for you to achieve a classic smart look. You can easily find a sharp-looking button-down collared African shirt that you can tuck into your chino or jeans for an eye-catching casual-official outfit. If you choose to go for this outfit, ensure you ditch the tie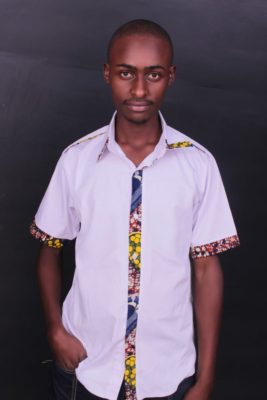 African-themed Men Shirts for Travel
If you're an avid traveler, it is essential to pack lightly. You also know why it's critical to pack versatile apparel. A shirt with a solid, monochrome color is an excellent option and allows you to hop from a formal affair to a casual outing without needing to change shirts. Please browse through our stand-alone easy-care options, such as this salute African shirt.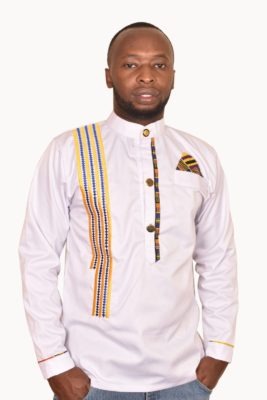 The Best Way to Style Your African Print Men Shirt
As mentioned earlier, you can wear African design shirts for men with any apparel and still look stunning. The only secret is to develop the knack for choosing colors, patterns, and styles that match.
Below are some of the ways you can wear your African men's shirt.
With Jeans
African shirts look great when paired with plain-colored jeans. However, the color and print on the shirt should be your guide to the color of the right jeans. You also have the option of dressing the outfit up or down, depending on the event. Generally, African men's shirts match perfectly with monochrome jeans, whether it's a bold or muted tone.
You can also match bright-colored jeans to complement your African shirt. It's a perfect outfit if you plan on heading to the office on a casual weekend. It's an excellent way of adding fun, color, and cheer to a rather formal setting.
With Suit
Suits work for weddings, work, and special events. Many people prefer wearing suits with formal buttoned shirts with a tie. Instead of subscribing to the dime-a-dozen style, why not wear your suit with an African design shirt for men and stand out with a personalized look. You can choose to wear the shirt with the top button done or go casual with an open-top button. If you decide to do the top button, have a tie with a plain color that blends potently with the African shirt.
With Chinos
If you have chinos, you can look a touch dressier paired with a stylish African print men's shirt. A zipper line African shirt or a button-down option can perfectly complement your chinos. You can opt for a patterned or striped shirt, but ensure that you choose a subtly colored shirt to balance the outfit.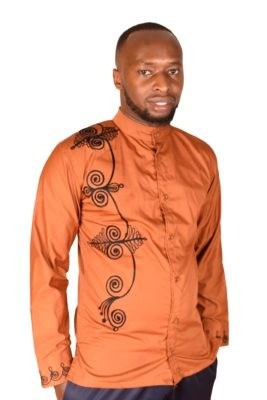 To spruce up the look, you can throw in a blazer, paying attention to the outfit's color integrity. If possible, go for a black blazer to match blue or khaki chinos. A casual shirt also works perfectly for an occasion that calls for a not-so-showy outfit, yet not too casual-looking.
Step into the Limelight with an All-African Style
Jeans and chinos are excellent matches for your African design shirt, but if you want to achieve the ultimate African menswear, try matching the shirt with an African print bottom. It's a colorful outfit that is increasingly gaining traction and works perfectly for those who want to stand out and look distinctively unique. Unlike popular opinion, this all-African outfit offers versatility as you can wear them for a casual occasion or trip.
Generally, African shirts have a unique character that can highlight any outfit. They are stylish and versatile as you can adorn them with virtually any piece of clothing and accessories, such as watches. You can also match them with official leather shoes or casual African-themed loafers to achieve a stand-alone look that will get onlookers' heads turning.