Hoodies provide comfort and protection from elements. African print jackets add a unique style to them with intricate patterns and stand-alone designs.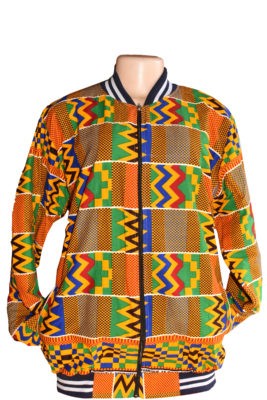 Some years back, one wouldn't guess that people would wear the once sloppy hooded jackets and sweatshirts in the streets instead of solely on the field. The African hood jacket is a new-era hoodie that provides a more laid-back style and enhanced comfort, whether you want to keep away the cold or simply make a fashion statement with your outfit.
Still, there are a few limitations to follow when you adorn a hooded jacket. We created this article to help you choose your African print jacket like a fashion guru.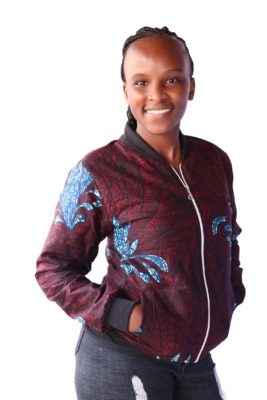 The History of the Hoodie
The sportswear brand, Champion, first introduced the hoodie in the early 1930s to protect men's teams from weather elements. By 1965, the demand for warmer sportswear by college teams made the hoodie popular among young Americans.
As the hip-hop culture developed in New York in the seventies, rappers and street dancers popularized the hoodie. Graffiti artists discovered they could conceal their identities from the police during their mischiefs. A decade later, skateboarders began wearing the hoodie, and by the 90s, gangsta rap had fully cemented the hoodie as a symbol of rebellious movement and black culture inclusion.
Today, it's not uncommon to see men and women wearing hoodies. The apparel serves an entirely different purpose, thanks to its versatility, comfort, and customizability.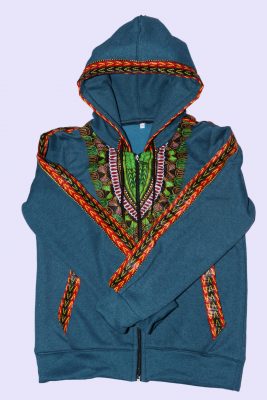 Things to Consider When Buying an African Print Jacket
As mentioned, hooded sweatshirts offer many benefits. In addition, African hooded jackets come in a wide range of styles and colors. But what separates one brown hooded jacket from another brown hoodie? Below we discuss some of the critical factors to consider when shopping for African branded hoods.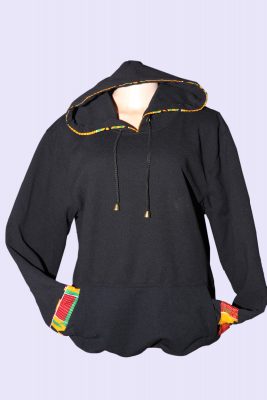 Breathability
When you consider breathability, you need to check the fabric used to make the sweatshirt. Although it might not have the desired level of moisture absorption, cotton provides excellent breathability besides its high quality.
Another alternative material that offers breathability is polyester. The fabric delivers high-level moisture-wicking performance, making it an excellent option if you're an athlete or a workout enthusiast.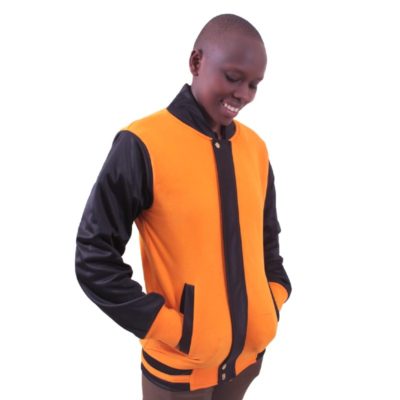 Warmth
How do you tell that a hoodie provides warmth? First, you need to check the fabric thickness and the weaving technique. If you can't get the thickness you need by simply touching the fabric, you can leverage online tools to check for your hoodie's fabric thickness based on the label.
When it comes to the weaving technique, a cotton African print jacket with a longer, softer weave can retain more heat on the inside, keeping you nice and cozy. On the flip side, a polyester hoodie with a loose weave might not be the best choice when you're looking for warmth.
Softness
While most people will look at the type and thickness of hoodies, many people consider the softness. Cotton excels when you're in pursuit of softness. The fabric gently touches the skin and provides warmth, just like a mother's hug. You can even take the softness a notch higher by combing the material using a ring spun. It removes impurities and contaminants from the fabric and gives it exceptional smoothness.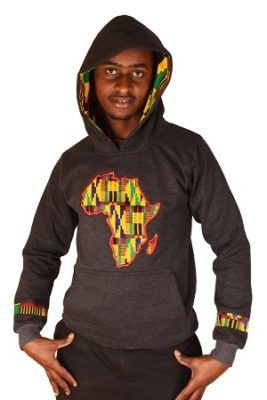 When searching for African branded hoods, don't only focus on the performance and invisibility. You also need to look at the quality of craftsmanship, versatility, and the right fit for you. For example, this African-themed chest snood features an excellent neck and chest pattern that meets the warmth, softness, breathability, and artistry requirements.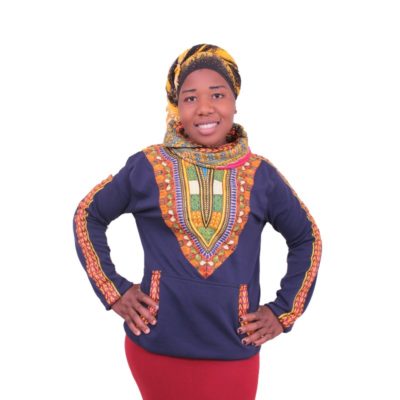 When to Wear Your Hoodie
Hood sweatshirts are no longer perceived as an apparel of choice for criminals wanting to conceal their identities. They are fashionable, and you can adorn them, whether you're an adult or child. However, there are those times that an African print hoodie comes in handy. Below are some occasions that require you to wear a hoodie.
Exercise – If you need activewear for your morning runs and jogs, it's best to invest in hooded sweatshirts. They help you keep the body warm before it generates heat as you run. They also retain the heat on the inside after you're done exercising.
Outdoor adventures and sports – For those who love spending time outside in the cold or at night, hooded coats and jackets provide the warmth you need to explore the outdoors comfortably.
Casual events – You can choose to wear an African print hoodie during your casual weekends, especially during the winter and cold weather. It might be a wedding, a night out with friends, or a family gathering; regardless of the event, you can wear a hoodie to complement your outfit. Instead of wearing the dime-a-dozen hoodies, try out the chest snood or a jumper.
Now that you understand the history of hoodies and the factors that make a suitable hoodie, it is easy to appreciate the apparel more. African print hoodies particularly add a distinct character to the hoodie, providing a customized style and design that depict your personality.