While in the office, it is important to ensure that your outfits do not stand out. Instead, they should blend in with one another to maintain a classy but professional look. While wearing African-inspired outfits, it is important to put this concept into consideration. Try to tone down expressive outfits by pairing them with dull colors like browns and blacks. Also, try to minimalize the jewelry and go for simple pieces that will not clash with the detail on your outfit. Below are examples of outfits sold at African bravo creative that you may wear in the office.
Valley-African Dress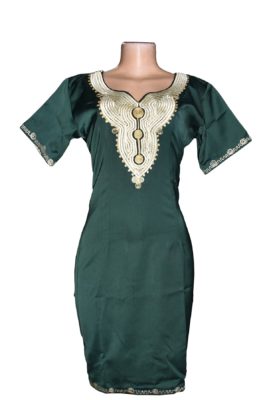 The Valley-African dress is green and minimalistic with subtle gold threading at the neckline, hem, and sleeve edges. Its bold color and minimal detail make it suitable for the office, where it will not stand out and make the office seem like a fashion show. The dress has an inner lining to ensure that that it is not transparent, thus making it modest and comfortable for you as you wear it. As such, it will give you a confidence boost, ensuring that you look your best as you interact with individuals within the office.
To wear this dress, pair it with minimalistic gold jewelry that will match the detail at the hem and neckline of the dress. It is also important to avoid other African pieces like headwraps as they will make the African theme of the whole outfit stand out, making it less appropriate for the office. Instead, maintain a subtle approach with a plain black or white blazer and matching shoes. This will remove the emphasis from the neckline, making the dress fitting for official settings while making you look fashionable and professional.
Afriheel Shoes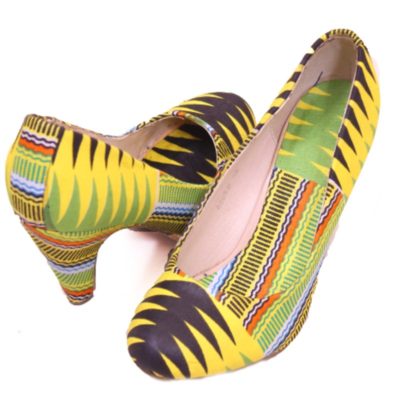 The Afriheel shoes have a low heel, making them suitable for an office setting, where one may be required to go from one department to another continuously throughout the day. Its fabric has a rich blend of colors, ranging from yellows, greens, blacks, oranges, and browns, making it possible to pair it with a variety of outfits. However, to maintain an official feel, try wearing only the colorful outfit with a dull worn. For instance, if you wish to wear a yellow top, pair it with a black skirt to make the outfit less bright and more centered.
This shoe should be paired with a plain colored ensemble of outfits since it has many colors in it. A black or brown official dress with a yellow or green blazer will be a perfect fit to ensure that you look fun but toned down. Similarly, a white pair of pants with a black or brown blouse/ camisole and a white blazer will ensure that you look classy while in the office. Accessorize with simple jewelry to ensure that you do not look overdressed or inappropriate.
Boyfriend shoes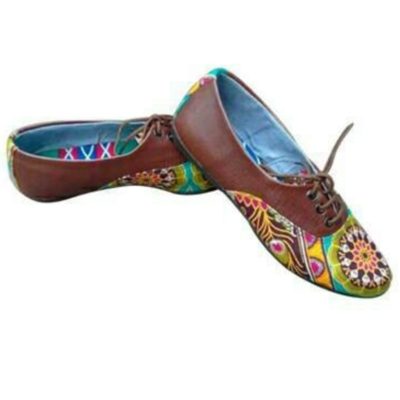 The boyfriend shoes are versatile and can be worn both in official and casual settings. The shoes are made of leather and African fabric, thus ensuring that they are comfortable and classy while maintaining overall durability. These shoes can be worn with a black pair of office trousers and a colored blouse to complete it for an official setting. You may accessorize with a simple belt and matching earrings and necklaces. It is important to ensure that you match your jewelry's gold or silver pieces as incorporating both colors might not look as appealing eventually. Bronze or brass may also be used.
Since the shoes are flat, they may not be a good choice when wearing official dresses or skirts, especially if you are going for a classy look. As such, ensure that the shoes are always worn when wearing trousers to look more elegant. These shoes are a wonderful addition to individuals who work in settings that require flat shoes like hospitals, laboratories, factories, and food processing plants. They may also be useful for individuals who spend most of their time standing, such as teachers.
Laptop bag and Office Laptop Bag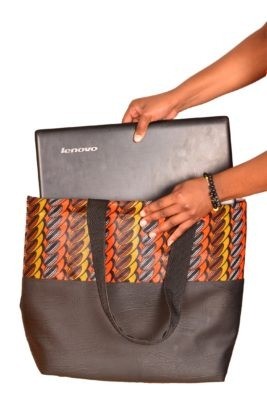 Unlike the traditional briefcase-like laptop bag, this bag is made of tuff rexine fabric and is decorated with a beautiful African fabric design at its top. The bag is durable but unique, ensuring that you maintain your fashionable feel while in the office. It has a thick strap, ensuring that it does not hurt your arms or overwhelm them as you wear it. Alternatively, it does not look like a traditional laptop bag, thus ensuring that you do not attract thieves as you go to the office or leave for home. The bag can be easily cleaned with a piece of cloth, making it easy to maintain and a reliable addition for extremely busy schedules. This bag can be used at all times and may accompany any official outfit as it is simple.
If you are looking for a more fun approach. The office laptop bag is the choice for you. This bag is made of leather, thus making it durable and eye-catchy for all your day-to-day carrying needs. Unlike the above laptop bag, it has a side pocket that makes it easy to compartmentalize items as you go to the office. It is also easy to clean by wiping it down with a moist cloth. This bag will ensure that you look classy and sophisticated as you walk into and leave the office.
Double Helix Dress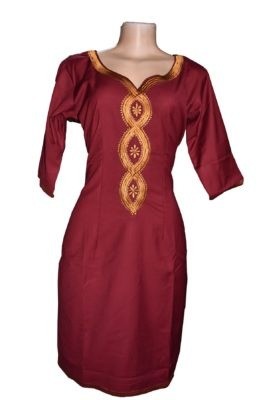 The Double Helix Dress is red and elegant with a beautiful double helix pattern at its neck. It does not have a lot of detail, thus making it a suitable outfit to wear for the office as long as it is dressed down appropriately. The dress has a narrow waist and extended hips, ensuring that it maintains your feminine appeal while in the office. It will also keep you decent and comfortable. It also has elbow-level sleeves, making it suitable for those days in the office when it is too hot for a blazer but too cold for a short-sleeved blouse or camisole.
The dress is best worn with a black blazer and a black pair of heels, as these will tone down the detail at the dress's neckline, making it less overpowering. The dress should be accessorized with minimal gold pieces that will not overwhelm the dress. While choosing jewelry, it is important to consider that the gold detail at the front of the dress may count as an accessory. Also, avoid necklaces as they will make you look overdressed at the neck.
Key Points to Consider
Avoid backpacks as they may make you seem less mature, which is not the look you should be aiming for while working in an office.
Shy away from bold jewelry like large earing hoops if you are wearing outfits with an elaborate design at the neckline.
When in doubt about what to pair the outfit with, choose plain black or plain white. Colorful combinations can easily go wrong.
How you pair your outfit will determine whether you are dressing for the office or a wedding. Minimal and simple is key.
Always look confident or people will start looking for reasons to justify your lack of confidence.