Official settings require individuals to dress formally, maintaining neutral colors and adopting minimal accessories. However, the strict demands of a work environment do not mean that you cannot wear African-themed fabric pieces when inside the office. At African Bravo creative, we have a variety of outfit choices that can be worn in official and casual settings, thus ensuring that you maintain your style in varied environments. Below are examples of outfits offered to ensure that you look dashing and unique as you interact with clients in and out of the office.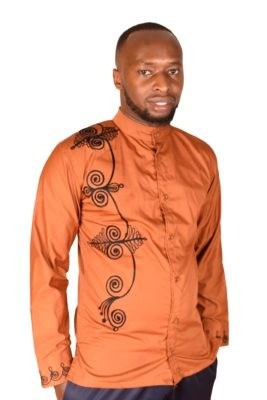 The spiral flower African shirt is brown with a simple flower design at the right end of the shirt. The flower is black, thus ensuring that it does not overpower the rest of the outfit and interfere with the rather laid-back theme of the shirt. This shirt may not be suitable for a Monday in the office, but it can be easily worn on Thursdays or Fridays. However, care should be taken to ensure that an official look is maintained.
Pair this shirt with a black pair of trousers and a black pair of official shoes. The black shoes may be substituted with a brown pair of shoes that match the color of the shirt. It is important to avoid tucking in the shirt as that would make the whole outfit less appealing. Instead, make sure the shirt is well-fitting and while the bottom covers a section of your trousers. If the hem of the shirt reaches just below the stomach, thus showing your belt, the outfit will equally be less appealing. Accessories should be minimalized to just a watch if needed. This will ensure that you do not look overdressed.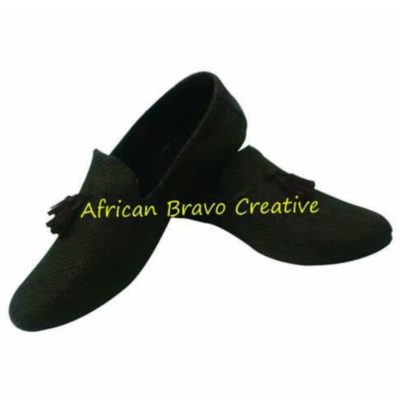 The best way to maintain an official look while wearing a semi-official pair of shoes is to pick shoes with a dull color and minimal detail. The black froarial shoe is the best option for those men who do not want to feel choked in the office by wearing traditional leather shoes. This pair of shoes is comfortable and soft, ensuring that you remain confident and at ease throughout your day at the office. Since the shoe is black, it can be easily paired with a fitting pair of pants (any preferred color) and a fitting black shirt.
The goal when wearing this pair of shoes is to remain classy. As such, ensure that you only wear clothes that fit when or else you might end up looking unfashionable and less suited for the office. Pair this with a gold or silver watch to reduce the dull feel that the outfit might have. Also, dress it up with a fashionable belt and tuck in your shirt to ensure that you enhance your masculinity and look more confident.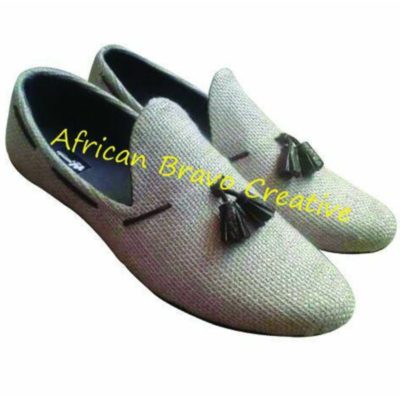 Similar to the black froarial, the froarial jute is a preferred choice for individuals who want to express themselves and their fashion sense while in the office. However, unlike the black froarial, the froarial jute requires maintaining a specific blend of colors to ensure that the shoes do not stand out. Since the shoes are rather grey, the best pants to dress them with will be a grey pair of fitting trousers, which will ensure that the bottom section of the outfit synchronizes easily. The bulk of this outfit is determining what to pair the bottom with.
You may prefer dressing it up with a black or maroon turtle neck and a silver watch to create a warm feel of the outfit. Alternatively, you may include a grey blazer to make the outfit more official. Similarly, you may dress down the outfit by wearing a plain office shirt, which will ensure that you look classy without trying too hard. This will also ensure that the outfit is semi-official and less structured. This outfit should be best worn on Thursdays or Fridays, during which the office has a laid-back feel.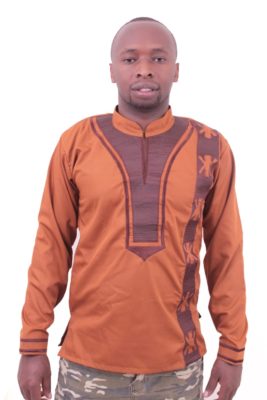 The gold king African shirt is a great option for the men who want to wear African print fabric at the office without having to obsess over what to pair it with. This shirt is rather dull, thus ensuring that it does not overpower most of the outfit options that you may have. The shirt may be paired with fitting official pants or jeans that may be of the colors grey, white, black, or navy blue. The shoes you may wear depend on whether you prefer matching with the shirt (brown shoes), the trousers, or maintaining a black pair (you can never go wrong with black).
Like the spiral flower African shirt, this shirt should not be tucked in and is, therefore, a great option for those bad-belt days. Ensure that the shirt is well-fitting and reaches just above the mid-thigh section to maintain a classy look. This shirt is for sure a steal as it can be easily paired, which is important for days when one wakes up late for work. Purchase it now from the African Men Apparel section of this website.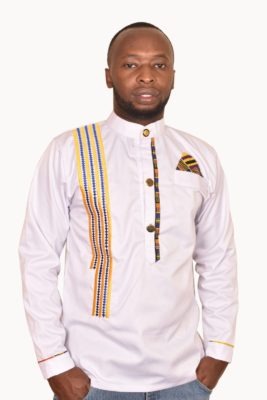 The salute African shirt is white with simple but colorful blends of African print incorporated, making it look official but fun. The shirt also has a pocket square, giving it the feel of a tuxedo, making it classier. The pocket square may however make the outfit feel like it is more suited for a wedding so feel free to neatly trim it off or hide it when going to the office.
When paired with a plain-colored pair of pants, this shirt will be suitable for the office. Wear this with a black pair of trousers and a black/ brown pair of leather shoes to maintain the official look. Also, maintain a classy feel by dressing it with a gold watch, which will match the gold buttons on the shirt. This shirt should also not be tucked in and its front should cover your belt. This shirt should not be worn with a blazer or coat, as that will make you look overdressed while hiding the shirt's detail. Instead, wear a confident face to make you seem more assertive, approachable, and reliable within the office.
Key Points to Consider
Always dress down a shirt with African fabric by pairing it with browns, blacks, or navy blues. Dressing it with bold colors like red will make the outfit stand out too much, which is not the look you want to maintain in an office.
Shirts that are white in color may be paired with light blues or greys. However, this may not always work. As such, when in doubt, choose black.
Try to maintain a minimalistic approach by incorporating only one African fabric clothing or shoe per outfit. Too many African pieces may make you seem too casual, thus spoiling the goal of the outfit.
When wearing African fabric-inspired shirts for the office, always go for the long sleeves ones as they seem more official and mature as opposed to the short-sleeved ones. Just like normal shirts, long-sleeved African fabric-inspired shirts look classier.
Your iron is always your friend
Your watch is all the jewelry you need while in the office.