The world is burning brimstones everywhere. Not a single drop of water in the seas to salvage it. Everything is either black and charred, or smoldering red. Not an ounce of oxygen. No life. No sunshine.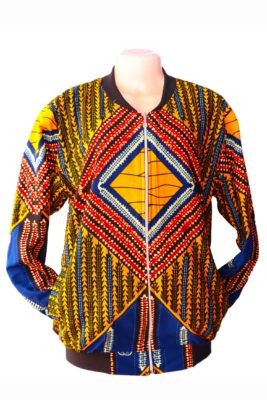 Other than how the colors harmoniously blend one into the other against a yolky yellow background. Other than the splashy royal blue and the gritting red pattern. Other than the scintillating African print and its overall calming effect, what else?
Human survival. The fate of the human race hangs in the balance. The Last Protecting Ring – the white, saw-edged ring forming along the blue boundary of the square at the chest area of the bomber jacket – is under threat. Open your eyes. Climate Change is Real. Let's join hands with mother nature in our human capacity possible for our children and their grandchildren.
It's Give and Take. What we give our beloved planet, it will take and give our future generations. Let's Choose Care. Let's Preserve the Future of Humanity. Pick yours today. Pass the message.
Highlights
Kitenge fabric
White full-zip front
Black knitted collar
Welt-hand pockets
Black elasticated, knitted cuffs and hem