Frequently, we have heard not to assume an outfit would look good on us just because it looks good on another person. Many factors come to play when it comes to fitting an outfit. These include your skin tone, height, body shape, and general body weight. Indeed, there are several considerations to make when buying an outfit or choosing to pair a set of clothes in a certain way. Also, you have to consider accessories and the length of each outfit to get a desirable look. And let's not get started on the design of your tops. Will it be a v neck, a plunge neck, or a turtle neck?
At African Bravo Creative, we want you to be confident in how you will look after buying the clothes we offer. We understand that it is not very easy to pick an outfit online as you may not have the opportunity to fit it and decide whether it is the best outfit for you. However, there are a few go-to guidelines that may help you when online shopping. As such, here are a few pointers on how you should dress up your apple/ inverted triangle body shape.
What is the Apple/ Inverted Triangle Body Shape?
Indeed, we all have an idea of what an apple looks like, or at least the triangle shape. However, when defining body shape, it can be a little challenging to determine which body falls into either shape and which shape properly defines your body. If you are unsure whether or not you fall in this category, here are a few pointers. Apple body shapes or the inverted triangle are very similar. Individuals who have either of these body shapes often have broad shoulders. Their shoulders are broader than the hips, hence the triangle shape.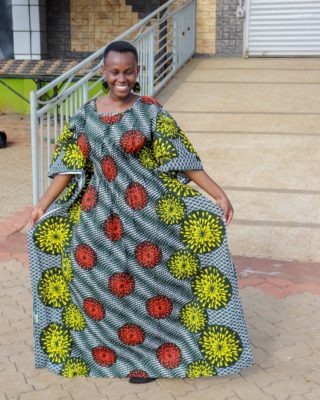 Individuals also have a less defined waistline, which is to say that their waist does not dip at the center. Instead, they may have a slight dip or no visible dip at all. Lastly, these individuals may not necessarily be curvy through their hips section. This makes the lower section of their body significantly smaller than their upper section.
The major difference between individuals with an apple shape and those with an inverted triangle shape is that they tend to carry more weight around their midsection. They may have a bigger belly or have love hurdles. As these individuals are relatively more prominent on their upper body, they should strive to wear pieces that reduce the emphasis on their broader chest. They should also wear clothes that give them more depth at the hips, such as this gives the illusion of wider hips. It is essential to note that all body shapes are beautiful, and if you have an apple or inverted triangle body shape, that does not mean that you are less feminine or desirable. It only means that you have a particular body shape.
Guidelines for Dressing Apple/ Inverted Triangle Body Shape
Go for Breezy A-line Silhouettes.
By breezy clothes, we mean more flowy and loose-fitting clothes, thus allowing you to add more weight to your lower section. These clothes are inclusive of dresses and t-shirts. Naturally, you may want to pair your breezy silhouettes with belts to emphasize your less-defined waistline. You might also prefer to make it more elaborative and wear a chunky belt. However, we strongly advise against including a belt in your outfit. This is because wearing a belt might end up emphasizing your less broad hips.
Skip the belt and let the flowy design of the dress flatter your natural curves and give more depth to your hips. We have several A-line silhouettes at African bravo creative, including our deras, like the African Cocktail Dera. Purchase either of the deras we offer today, and we will deliver it to your preferred location as soon as possible.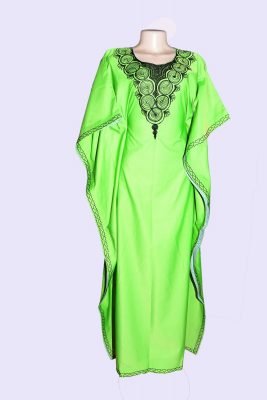 Opt for relaxed boyfriend button-ups
Relaxed clothes enable you to play around with the perceptions of those who see you. It will also make your shoulders seem less broad, thus giving more depth to your hips. Relaxed button-ups will go well with both official and casual clothes, depending on the pants you choose to go with the outfit. The upside is that relaxed outfits also ensure that your body is well aerated. This will reduce the risk of rashes, itching, or excess sweating.
Embrace layers of coats or straight knee-length trenches
Some days may be chilly, or you may feel like it's the best time to wear a coat or blazer. When shopping for either of these items, go for the ones that have an A-line cut rather than the tightly fitting ones at the waist. Also, go for longer pieces as they will create an illusion of broader hips. An example is the African Kimono, which is long and colorful. As such, it will ensure that you look beautiful and it will enhance your natural curves. Alternatively, you may opt for our longer ponchos, which will keep you warm but give you more room to move your hands. Purchase the African kimono or any of our ponchos today, and we will deliver it to your preferred location as soon as possible.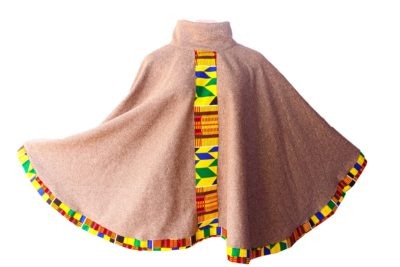 Maintain loose sweaters, jumpers, hoodies, or jackets
Most clothes that are made to help individuals keep warm during the cold season often have a fitting hem. However, you will want to go for those that are not tightly fitting at the hem. This is because tight hems will emphasize your broader hips and put a lot of emphasis on your body shape. Instead, put on loose clothing that will take the emphasis away from your hips and shoulders. An example of these clothes includes the rhino hood, which is longer and loose-fitting at its hem. Purchase the rhino hood today, and we will deliver it to your preferred location as soon as possible.

Go for maxi dresses with lower necklines for your Inverted Triangle Body Shape
This rule may apply to knee-length or mini dresses as well. A lower neckline will make your shoulders seem less broad. This will create more depth towards your hips, making you appear fuller. When dressing, it is essential to play with perception and make you seem more beautiful and accentuated. An example of a maxi dress with a lower neckline is the shoulder fall dress offered on our website. It is more fitting than the dera, but it has loose fabric at the sides that may work to make your hips look broader. Purchase the shoulder fall dress today, and we will deliver it to your preferred location as soon as possible.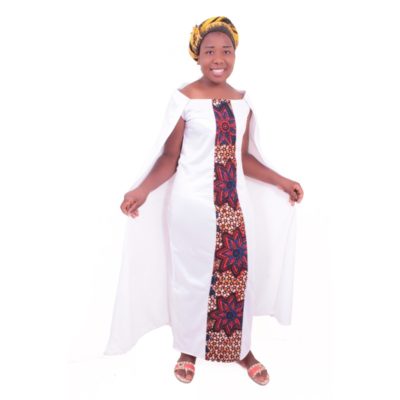 A-Line dresses and skirts are your best friend
If you are unsure what we mean by A-line, these are the dresses or skirts that are fitted at the waist but flare to the hem. These dresses and skirts work to balance the broad shoulders and flatter your inverted triangle body shape. They also provide minimal depth to your hips, thus giving you a more feminine shape. A-line designs also help to hide belly fat and are suitable for days you expect to indulge heavily. Examples of A-line dresses on our website include the double helix dress and the geometric African dress. Purchase either of these two dresses from our website today, and we will deliver them to your preferred location as soon as possible.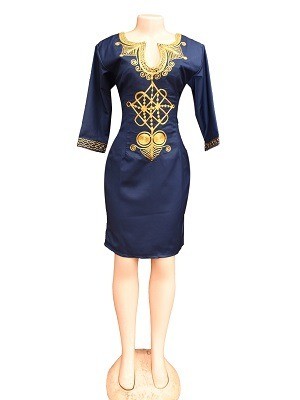 Mind your choice of colors for your Inverted Triangle Body Shape
Darker shades are ultimately the most flattering as they tend to slim your body and hide unwanted curves. Also, larger prints and horizontal lines increase volume. In contrast, smaller prints and vertical lines decrease volume. Therefore, wear tops with smaller prints or vertical lines to make your shoulders appear less broad. Alternatively, wear trousers, skirts, or shorts with larger prints or horizontal lines to give you more depth at the hips.
Pair skinny jeans or leggings with oversized shirts, t-shirts, or sweaters
Skinny jeans are very flattering as they show off your curves and make you look more feminine. A better way to falter your figure would be to pair skinny jeans or tights and leggings with oversized shirts, t-shirts, or sweaters. The oversized top will remove attention from your waist and flow over to your upper mid-thigh giving you more depth at the hips. Our ponchos and hoodies will serve this purpose comfortably. Purchase a preferable design, and we will deliver it to your preferred location as soon as possible.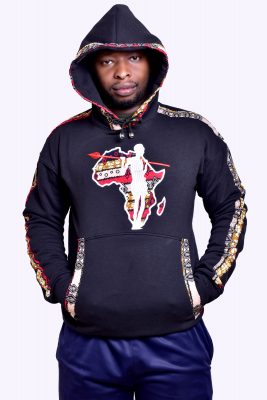 Always remember your confidence
A beautiful and well thought off outfit will not look as impressive if worn without confidence. Always step out of your house in style and wear a smile to show off your radiance. Also, maintain eye constant and keep your head eye as you interact with others. This will make you look more confident and trustworthy.