Monkey bags are perfect for when you meet up with friends or when you are going to class. These bags are popular among students since they can comfortably carry their books or related stationery. Our monkey bags have two zipped front pockets that will be useful in carrying ID's or lose cash that you might need when travelling. The bag is fitted with a drawstring and a buckle flap. This ensures that your items are well secured as you travel. It is also incorporated with African fabric at the front pockets and flap, making it colourful and stylish.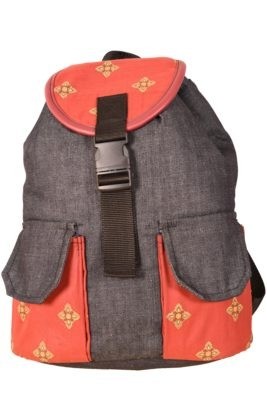 This bag will serve all your carrying needs while ensuring that you look elegant. Examples of monkey bags sold at African Bravo Creative include the adult tribal-jeans monkey bag, the jeans monkey bag and the kitenge jeans monkey bag. Our bags come in different sizes, serving both adults and children.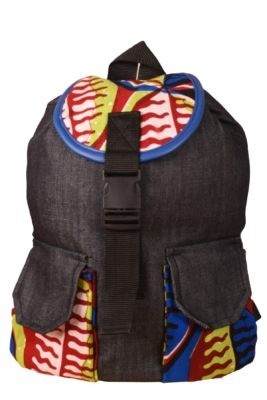 Baby bags allow parents to carry all the items that a child may need when travelling. These may include extra clothes, diapers, wet wipes, baby oil, disinfectant, baby food, and baby powder. These items may not fit in a traditional purse, hence necessitating the need for a baby bag. Our baby bags are made using jeans material and colourful African fabric, ensuring that they are both durable and beautiful. They are also large, ensuring that they accommodate all the items you may need as you travel with your child.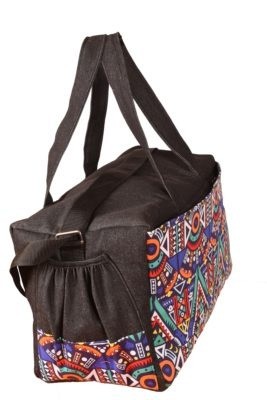 They have two slings to ensure that they can be carried from both the shoulder and the hand. Thus, you can relax your muscles consistently throughout the journey. This will also ensure that the bag remains functional should one sling come off accidentally. This is the perfect addition to your closet as a mother. It will also serve as a wonderful and thoughtful baby shower gift. Purchase one today and have it delivered to you at your desired location.
Weekender Bag
Weekender bags are mainly used for travel. They are similar to duffel bags; however, they are larger and can carry more goods. At African Bravo Creative, we call them safari bags as they are most suitable for safaris. Our jeans-tribal safari bag is made of jeans and African fabric, ensuring durability, long-lasting, and stylish. It also has two slings, enabling you to carry it on the shoulder or the hand. It is suitable for traveling for long distances. Our weekender bags are spacious, enabling you to carry many clothes, not just outfits you would need for the weekend. This bag is ideal for a short-term vacation or when visiting parents. It may also serve as a baby bag when you are travelling with your child. It will serve many needs within your household.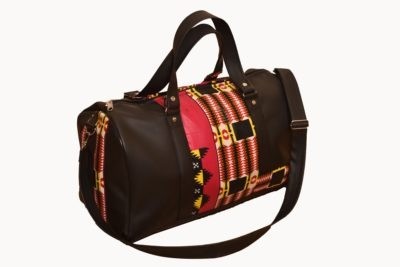 Duffle bags are very stylish and easy to carry. They are suitable for weekend adventures or when going to a sleepover. At African Bravo Creative, there are various duffle bags to choose from. The first variant is made using blue leather and dashiki fabric which may be substituted with tribal African fabric. An example of this variant is the Bluetab leather bag. It is very spacious and is fitted with two strings, enabling easy handling throughout the day. The bag is also fitted with a zipper to ensure the privacy and security of all the items. It has a frontal pocket to put your ID, ticket, or loose cash when travelling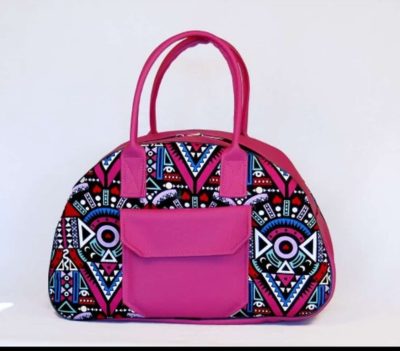 The second variant is larger, made using black leather and tribal African fabric. An example is the Kitmid leather travelling bag. Since it is significantly larger, it has a shoulder strap that will enable you to easily carry your bag without a lot of strain. The African fabric is incorporated at the centre of the front and sides of the bag. This makes it look stylish, colourful and elegant. This bag is equally durable and secure with a fitted zipper that will ensure the privacy of your commodities as you travel.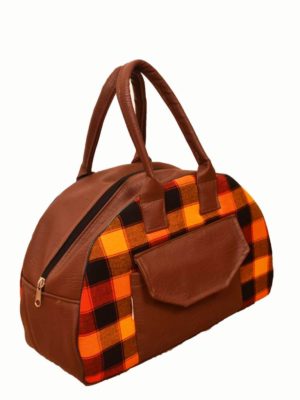 Carrying your laptop in its traditional laptop bag may attract attention from thieves. Therefore, instead of using your traditional option, purchase a laptop bag from our website. We have a variety of designs that will serve your preference and your laptop needs. Our laptop bags range from backpacks to tote handbags to shoulder bags, thus addressing the needs of every occasion. With us, you can be more diverse, which is important when trying to maintain style as you go to class or the office.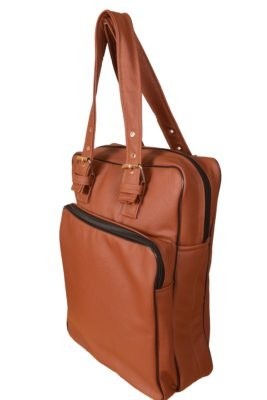 Our backpack laptop bags are made of leather and tribal African fabric. This makes them durable and more resistant to attempts of cutting or tearing when a pickpocket may try to remove items from your bag forcibly. The blue leather laptop bag also has a front compartment that may be useful in storing any pens, papers, or IDs. Since it is at the front, it enables easy access, which is crucial. It also ensures that you do not have to open the back zipper and expose your laptop in the process.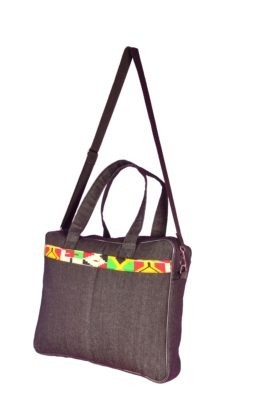 The tote laptop bag has two short straps that enable it to be carried like a handbag. These straps are thick. They reduce the strain on your arms ensuring your comfort, which is important when carrying heavy items. It is also made with leather and has a beautiful African fabric design incorporated at its top, making it beautiful and classy. The bag is durable and firm, ensuring that it retains its sturdy despite being empty. This also ensures that it does not outline the shape of your laptop, which may attract thieves.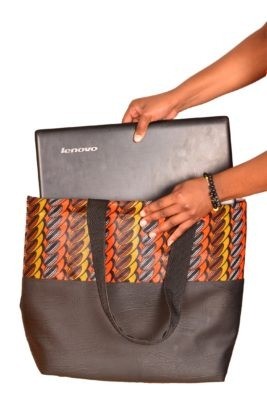 Lastly, the laptop shoulder is made of thick brown leather and African fabric, making it both colourful and sturdy. It has a zipped front pocket, which will serve to carry small items like keys and your ID card as you travel. The bag also has a shoulder strap and two short straps each made using leather. These straps ensure that you can comfortably carry your bag without straining either your shoulder or your hand. Our shoulder laptop bags can also serve as conference bags. Purchase either or all of these bags today and have them delivered to your preferred location.
Clutch bags are a stylish and feminine option for carrying your phone and credit cards. They are suitable when you don't want to walk with a bulky handbag. They are fashionable, trendy, and realistic, making them a must-have in a modern woman's closet. On our website, we offer half-moon clutch bags that are either made of sisal or cowhide material. These clutch bags are made from more durable and secure material, ensuring that your goods remain safe as you travel. You are assured that these clutch bags will serve your needs over a long period, making them a worthy investment in your wardrobe. They are also stylish as the material and design used is unique. The clutch bag is fitted with a zipper, thus ensuring the privacy of your items.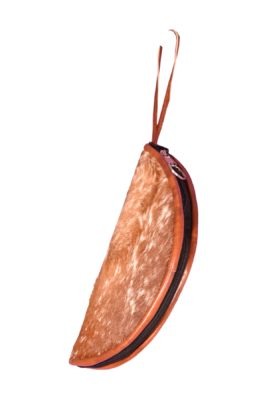 At African Bravo Creative, we make picnic bags in a sling bag fashion. They are made using a mixture of leather and cowhide/African fabric/ sisal, ensuring durability and fashionability. We have various designs of the body of the bag, satisfying the needs of our diverse clients. We recommend that you buy both designs. The larger version is good for carrying a wide number of commodities, the circular one is more fashionable. They are also fitted with an adjustable thin leather strap. The strap is soft to ensure that it does not strain your shoulder as you carry it. Since the picnic bags are made using brown leather, they may be paired with various outfits irrespective of colour and texture. Wear it with a black pair of jeans and a white top with white sneakers. , Ideal when going for a date or a casual meet-up with friends.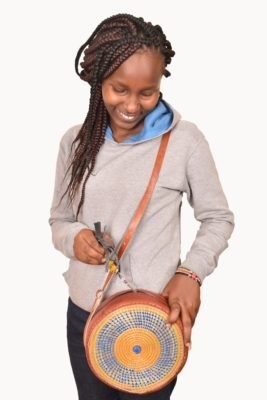 The tote bag is both fashionable and simple. It ensures that you look stylish when you go shopping or run errands around your neighbourhood. The tote bags offered are more suitable for brief visits outside the house. They include the Velvet handbag, the branded leather-kente handbag, and the big five jute bag. We also offer more durable tote handbag options like the tribal brown leather handbag, which is made with leather and tribal African fabric material. This bag may be used for all your needs. Either when going to the office or for a casual meet-up with friends. The African fabric used is very colourful, and it matches the brown colour of the leather. Due to its colourful nature, the bag may be used when wearing different colours of outfits. Buy it today and have it delivered to your preferred location.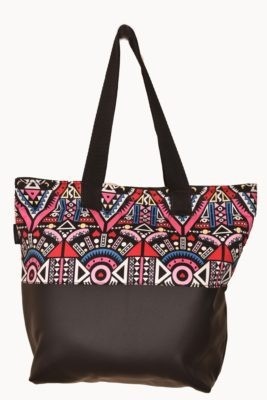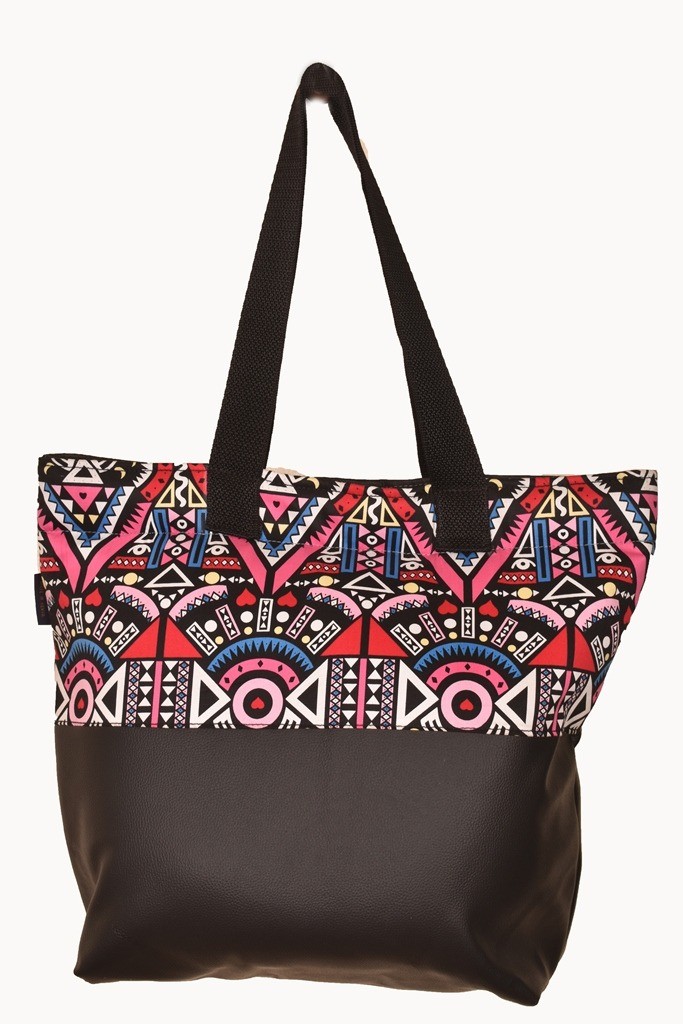 African Bravo creative has a wide assortment of backpacks that will satisfy all your school-going needs. They may also be used when you are planning for a brief vacation or hike. Our backpacks are very spacious, which ensures that you can easily carry many commodities in one place. They also have a front pocket, which is useful for storing your ticket, ID, or loose cash. Examples of backpacks offered include the animal print backpack, which is made from hard fabric containing many depictions of various wide animals. We also offer leather backpacks, which are more durable and classy. This variant will be more suitable for carrying more valuable items like your laptop as you go to school. Other backpacks include the leopard backpack, wild zone African bag, and patches backpack.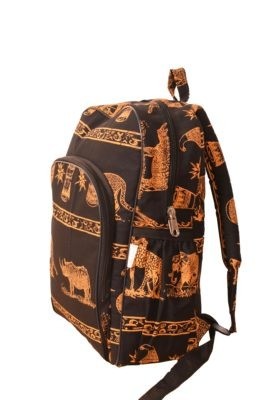 Our website has one unique pot leather sisal bag that will have people around you envious. The bag has a beautiful sisal design at the bottom quarter and strong, durable leather at the top. It is secured using a drawstring, ensuring that your commodities stay intact. It has two short leather straps at the top. The bag is brown, ensuring that you can pair it with different outfit combinations. Buy this bag today and have it delivered to the place of your choosing.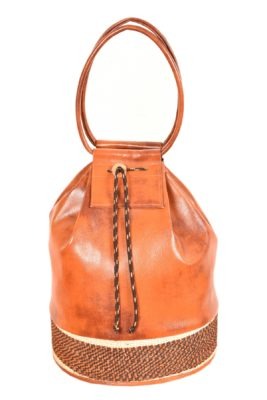 Waist Bag/ Fanny Pack
Waist bags are a wonderful means of carrying items without putting a strain on your arms, shoulders, or bag. At African Bravo Creative, we offer spacious unisex waist bags to carry all your required small items regardless of your gender. The traveller's documents holder is useful for carrying documents safely. It is convenient for individuals who do not like carrying around suitcases or conference bags. The traveller's documents holder also has a front pocket that may be useful for carrying small items that you need to easily access such as keys and IDs.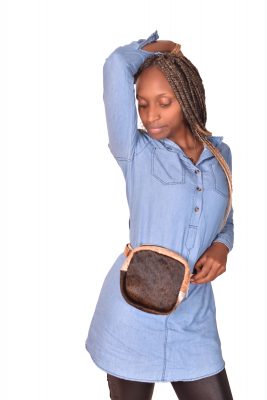 The African phone purse is made from blue leather and beautiful African fabric. The purse may be used for all needs, not limited to carrying your phone. Gift it to your younger siblings, who might need it to store pens and other stationery. It may also be used to compartmentalize your handbag. The purse may be used to store more private material like sanitary towels, tissue rolls, and wet wipes. As such, it is a worthy buy and will be used over time.  Alternatively, our website has a variety of fashionable jute purses and may be used when you need to go for casual meet-ups or a date. The purses are secured with a flap and are incorporated with African fabric making them beautiful and stylish. Purchase your purse today from the website and have it delivered to your preferred location as soon as possible.