Branding is crucial as it helps you advertise and market your business. It also helps your company have a more professional feel, especially if the company is involved with customer service. Indeed, some companies like Kenya Airways can reach a more extensive customer base due to their professionalism as every employee wears a uniform branded with the Kenya airways logo. With good branding, you can advertise your business and get a steady following. You can also showcase your excellent work environment and organizational culture, thus attracting new employees and partners. At African Bravo creative, we understand the importance of branding, and we offer an opportunity for you to advertise and market your company.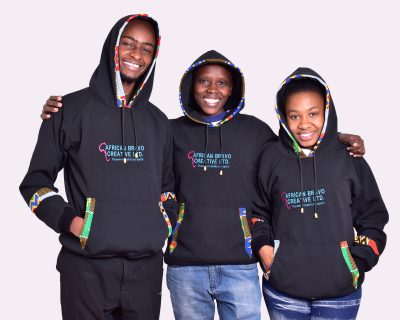 As seen in the picture above, we offer branding services for outfits like sweatshirts, which will be helpful when going for outdoor campaigns to advertise your business. They may also be used for company team-building activities to keep employees warm while promoting the name of your business. We offer branded t-shirts, which are suitable for warmer seasons, ensuring that you can attract your market niche in spite of the weather. These clothing items may also be used as a work uniform to increase professionalism and show the company's united front in satisfying customers.

Bags Branding
Our branding options are not limited to clothes. We offer branding options for bags as well, where our website includes the branded leather-kente handbag, the branded college bag, and the branded carrier bag for corporate. These bags are helpful for storing office-related material when moving them from one department to another. They may also be used in work conferences or workshops to thank all those individuals who came to the event to support the business. Consequently, when the company performs a community-related project like cleaning the neighborhood or providing sponsorships to school children, the bags may be used as gifts to participants and as a way of marketing to promote solidarity with the community.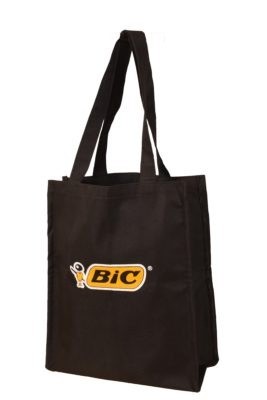 Every company needs to dedicate a section of their budget to branding company-related items as the items will serve as marketing and advertisement products. Branded items can also serve as gifts and a way of building team spirit and a positive work environment. Lastly, uniform branding outfits in the office show solidarity and professionalism within the work environment, as seen in hotels and airports. As such, feel free to contact us for our branding needs, where you may use the preferred color and size of your commodities. We will deliver your branded items to you at your preferred location as soon as possible.