Weddings are the best event to show off your glam without looking overdressed. They are also the perfect place to socialize and meet prospective dating partners. When it comes to weddings, we recommend you go overboard and wear your most exquisite outfit. Your outfit should wow other guests and have everyone asking for the number of your retailer. At African Bravo Creative, we understand your need to doll up at that wedding. We know that you need some beautiful pictures to display on your Instagram page. Our collections are suitable for various settings, including garden-themed and beach-themed weddings. They can also be worn on other occasions, making them a much reliable investment to your wardrobe. Below are various outfits on our website that will ensure you look dazzling enough to make the bride's mother jealous.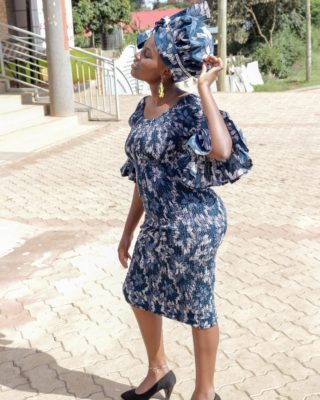 You can hardly go wrong with African Dresses at an African wedding as they are vibrant. The African cocktail dress, for instance, is made for all your glamour needs. Since it is made using cotton fabric, it is durable and will not fade out over time. The dress is figure-hugging and made using elastic thread, ensuring that all your beautiful curves will be displayed. The material is also thick, ensuring that the dress is not see-through, which would make you look cheap. The ruffles at the sleeves of the dress will give you a stylish and fun look. They will make you seem easygoing and approachable, which is a look you should be going for when attending a wedding.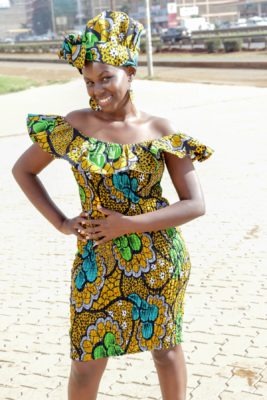 The African cocktail dress is sold with a matching headpiece and a pair of navy blue and yellow kitenge earrings. This makes it a reliable addition to your closet since each piece sold can be used separately. When going to the wedding, wear the dress with the matching headdress and a glamorous pair of heels. An elegant set of jewelry will also give your outfit a complete touch of elegance, making you look beautiful and stylish as you interact with friends and family. Purchase the African cocktail dress today and have it delivered to your preferred location as soon as possible.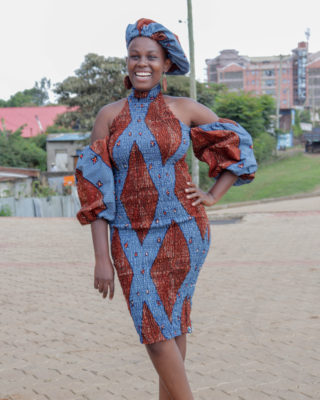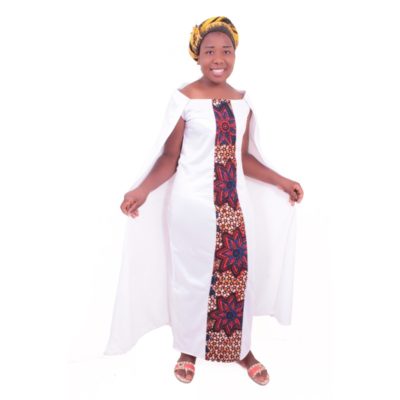 Do you have a beach wedding scheduled but are confused about what to wear? Beach weddings are hard to dress because they demand an outfit that is light but not flowing to the toes. A light outfit will make sure you do not get heated up, considering beaches are relatively hot. The outfit should not be too tight as that will make it hard to dust off any sand that might have been caught. It is for all these reasons that we recommend the shoulder fall dress. The shoulder fall dress is made using light fabric that will keep you cool in spite of the heat. The dress is wider at the shoulders, which will also keep you cool.
The dress has added fabric at the back, which could double as a veil should you consider this dress as a wedding dress. This dress will suit your needs if you want an African-themed beautiful dress for your reception at the beach. You can easily pair the dress with exquisite pearl jewelry and white sandals for a beautiful Afro-bohemian bride look. It is the perfect way to wind down your wedding after wearing an elaborate gown during the church service. It will also give you enough room to dance with your husband as you watch the sunset across the horizon. Purchase the shoulder fall dress today and have it delivered to your preferred location as soon as possible.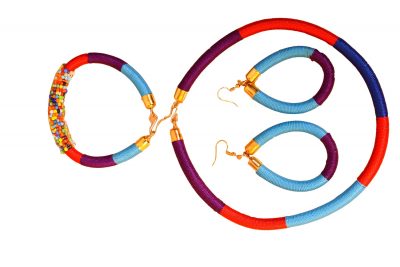 Weddings demand a taste. They require an individual to have extravagantly beautiful jewelry pieces that will dazzle everyone while giving an elegant feel to your outfit. Jewelry has a way of brightening your face and making you seem more refined. They will make you more attractive to all those around you. Indeed, weddings are the last place to look plain or unpolished. The bracelet earring set is a beautiful set of jewelry that will give an African touch to your outfit. Whether you chose to go with African-themed outfits or the classical alternative, the bracelet earring set will serve all your needs. It will ensure you look glamourous.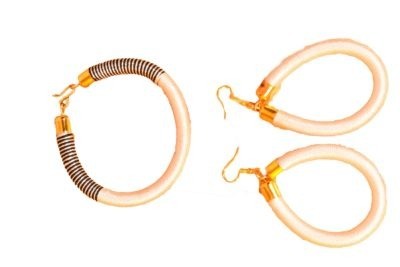 The bracelet earring set consists of a necklace, bracelet, and a pair of earrings that can be used as a set in one outfit. Alternatively, you can put on the earrings or bracelet alone, depending on the needs of your outfit. The set is the best option for an Afro-themed wedding, especially one set in a location that has the perfect view of the savanna. The jewelry set also pairs well with a majority of the outfits on our website. Therefore, if you plan on wearing one of our dresses to the wedding, this set will be the perfect accessories. Purchase the bracelet earring set today and have it delivered to your desired location as soon as possible.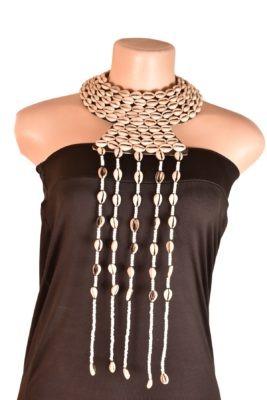 A beach-themed wedding needs beach-themed accessories. Often, these accessories involve white or colored shells that have been collected on the beach and fitted together to form earrings, bracelets, or necklaces. At African bravo creative, we have the cowrie shell necklace, which includes more than 50 cowrie shells fitted together using sturdy thread. It is lengthy and will cover a considerable portion of your neck and chest. As such, it is the best neck accessory when you are wearing an off-shoulder or strapless dress or shirt. It is mainly a good option for those women who want to wear outfits bare at the shoulders but are uncomfortable with showing off too much skin.
The cowrie shell necklaces give off an Afro-bohemian vibe to your outfit, making you seem more fashionable. It is light and will not put too much pressure on your neck, which might make you tired and irritable. For a better look, pair the cowrie necklaces with matching cowrie earrings and bracelets.  Alternatively, include cowrie shells into your hair to transform your look into a more mermaid-themed feel. This necklace will indeed make everyone jealous. It will be a reliable addition to your closet. Also, you can still use it on other occasions after the wedding. Purchase the cowrie shell necklace today and have it delivered to your preferred location as soon as possible.
Suit
If you are aiming for an elegant and sophisticated look, the suits we offer are the best option for you. They are made using elastic fabric, ensuring that your beautiful curves will be displayed. The suits are also made using cotton fabric, and they will remain durable and retain their beautiful color after subsequent wears and washes. The cotton also ensures the fabric will not chafe or accumulate sweat throughout the day, which would make it uncomfortable. When choosing an outfit to wear at a wedding, you should always consider that weddings are often lengthy. The fabric used to make the suits is especially colorful, making it the perfect outfit for a glamorous occasion like a wedding.  Examples of suits offered at African bravo creative include the elastic African suit and the elastic kitenge suit, both with the same intricate design and fashionable feel.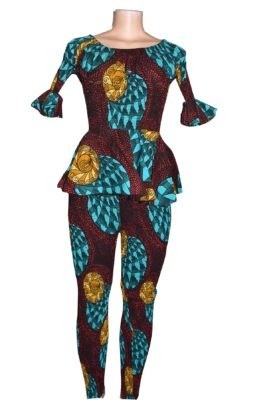 Pair your suit with a beautiful pair of strap-on heels and a set of earrings, and a short necklace to get a sophisticated feel. Alternatively, you can put on a nice pair of kitten heels and a pair of loop earrings to finish your outfit. The latter will be convenient if you prefer closed shoes. Purchase either of the suits offered at our website that suit your style today and have it delivered at your preferred location.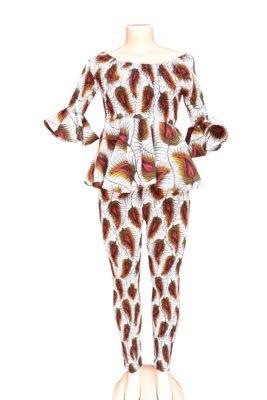 The Moroccan kitenge dress is the perfect dress when you are attending a garden wedding. It is made using beautiful blends of shades of green and red. The dress is an off-shoulder, which will show off your beautiful skin while keeping you cool and comfortable throughout the wedding. When it gets late, you can easily wear a scarf to keep you warm without compromising your whole outfit. It is a body con dress made using elastic thread, which ensures that the dress shows off your lovely curves. The material at the stomach area is also loosened up, ensuring that you can eat to your fill without worrying about a belly bulge.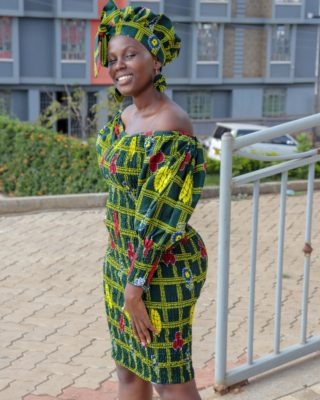 The dress comes with a matching headpiece and earrings that will better compliment your dress, making your overall outfit look more elegant. The matching pieces also remove the need for looking for jewelry pieces to match the dress or an exotic hairstyle that will match the extravagant occasion. However, that does not mean you are obligated to match the dress with the hairpiece and jewelry. Pair the outfit ensemble with a fancy pair of heels for a sophisticated look. Purchase the Moroccan kitenge dress today and have it delivered to your preferred location as soon as possible.