Headpieces are a wonderful addition to your wardrobe as both an accessory and a way to look classy even though you might be having a bad hair day. They are easy to put on, pair with, and a perfect way of making you look like an African queen when you want to stand out.  African Bravo Creative has a variety of headpieces sold as an outfit set with a matching dress and pair of earrings. This does not mean that these headpieces should be worn strictly with the outfits they were bought with.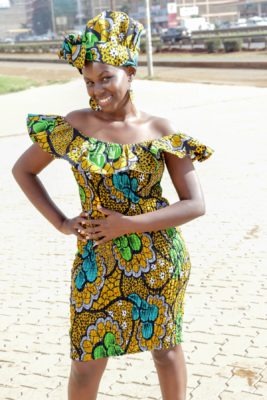 The ruffle African dress set headpiece consists of blue, green, and yellow blends of colour, making it suitable for when you put on outfits with either of the colour combinations. The outfit may also be worn with plain colours like black or white, where the headpiece will bring a dash of colour to a rather simple and dull outfit. To play safe, you may wear this with shoes that match the colour of the outfit thus ensuring that there is less activity going on in your look. Also, since the headpiece is rather large, it is better to accessorize with smaller earrings, thus ensuring that you do not emphasize your head too much and look overdressed.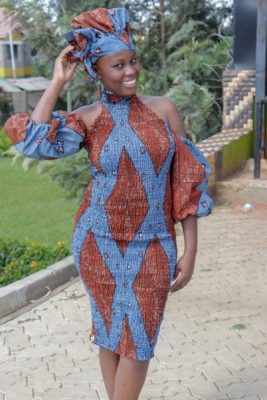 The bodycon elastic African cocktail dress set consists of a blue and red headpiece that is rather minimalistic and, therefore, easier to dress. This headpiece should also be worn with outfits matching its colour combination. This ensures that the look synchronizes, and you do not look like you just picked different outfits and put them on without considering how you may end up looking like. A safer choice would be to wear the headpiece with whites and blacks, which are rather neutral and thus will not make you look like you are trying to mash up colours together. The shoes should also match the outfit, as finding a shoe that matches the headpiece will limit you to only wearing the shoe when you have the headpiece on. This is not realistic, as you should aim to have a wardrobe that is versatile, easy to style, and non-monotonous.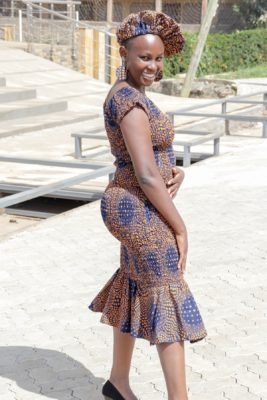 Other headpieces sold include the Fish-African cocktail dress headpiece, which has a more modern feel as it is made with a bonnet design rather than the traditional headpiece design. Due to its design, this headpiece is more versatile than the two pieces above, making it a perfect choice for casual settings, including dates and meetups with friends. It is also well suited for a quick dash to the shop when having a bad hair day. This cap is the perfect addition to the wardrobe of a lady who wants their outfits to be suitable for days when they need to make a statement and days they need to keep things simple. As such, I recommend that you purchase the Fish-African cocktail dress available on the website today and rock your outfit in style.