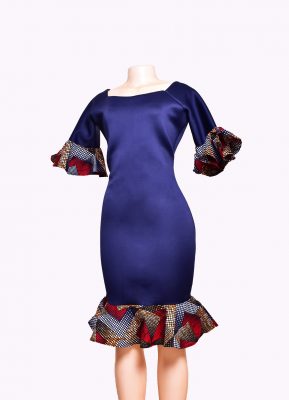 African clothing is gaining exponential traction in the global fashion industry, with many people embracing the
intricate designs and patterns of African prints.
There is a wide range of colors, patterns, and styles for African dresses, thanks to the many cultures, tribes, traditions, and history that the African continent boasts.
If you are out in search of an eye-catching African dress, then this guide will offer you three useful tips for selecting the perfect dress, whether you are attending a wedding or going out shopping on your casual weekends. However, before we delve into that, here are some of the top reasons to purchase African dress women in 2021.
Why Buy an African Dress This Year?
If you've been skeptical in the past about investing in an African-print dress, then here are some of the reasons that might nudge you to consider ordering one online.
Unique, Stylish Fabric Print
A fascinating aspect of African wear is that the fabric is made using traditional printing techniques. The most synonymous print to Africa is Ankara. Its manufacturing process uses wax to print the desired pattern on the fabric before dye addition. Other alternative prints include Bogolan and Kente, an excellent choice for an African maxi dress or any other ceremonial design. Generally, African fabric undergoes traditional manufacturing with a mix of modern techniques to create intricate patterns and designs that catch the eye.
Celebs and Influencers Love African Print
African prints are known for their bright colors and sophisticated patterns that isolate them from the other available fabric. Many celebrities and influencers have discovered African dresses' stand-alone nature and have even influenced their fans to follow suit. Examples include Michelle Obama, Kim Kardashian, Rihanna, and Nicki Minaj. If you are a trendy fashionista, you might want to buy traditional dresses and join the list of celebs who've adorned them.
Stand for the African Heritage
Gone are the times when you would wear an African dress for fashion. It is becoming an effective means of making a political stand, especially following the Black Lives Matter campaign to protect discrimination and social injustices against people of color. Many influential figures and celebrities with no African heritage have adorned African dress women in support of the movement. Why not buy an African dress and stand for a positive course?
Top Things to Consider when Purchasing an African Dress or Fabric
As mentioned before, there is a wide selection of African fabric, patterns, and prints. While that makes it easier for you to identify the design and color that suits your taste, finding the quality and texture you desire can be challenging. Like any other industry, there is a chance you might find low-quality products in consumer markets. You can avoid that by considering the three tips below.
The Dress Fabric
Traditional African dresses are available in a wide range of fabrics. Your choice depends on your style and preference. Some examples of fabrics used to make African-themed dresses include Ankara, voile lace, aso-oke, linen, and cotton. These fabrics have varied textures and softness. Therefore, you need to find the material that you are most comfortable wearing.
For instance, Ankara fabric is an excellent choice if you're looking for stand-alone African richness and vibrancy. Alternatively, you can choose aso-oke textile for comfort. The fabric is hand-woven from anaphe wild silk or cotton, making it excellent if you need a dress with enhanced breathability for perspiration.
Consider the Event You're Attending
There is no limit to the events you can attend wearing African print, but there is a limit to the type of dress you'll wear, based on the event you'll attend. If you are scheduled to go to a formal occasion or business event, it would be best to consider a simple African dress with subtle colors and patterns. What you want is a dress that fits not too tight but slightly hugs your curves to eliminate a shapeless appearance for an outstanding look. If you're in search of a dress with more richness and vibrancy, you can choose anything from Dashiki or kaftan.
What's the Price of the Dress?
Traditional African dresses are priced differently because they also come in a plethora of fabrics, colors, patterns, and designs. Furthermore, the quality of material, embroidery, and stitching also determine the price tag. That being said, it would be best to do some homework. Conduct an online search or head to various designers and dressmakers to understand the different prices to find the right dress at a price that you're comfortable with.
African dresses have become popular among different culture of the world, and you can also taste African fashion by getting one for yourself. If you're looking for some appealing African dresses for your next event, feel free to visit AfricanBravoCreative. We have a wide selection of dresses, well-matched with integrally-blending accessories.